So my pal over at
Frogs in my Formula
awarded me! This is my second award and wow do I ever feel special!! Thank you darlin'!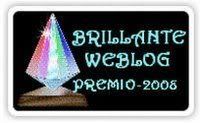 So it's time for me to share the love!! Hmmmm...who do I think is brilliant? Well there's
Sissy and the Martians over at My Kids Might be Martians
Kadi at Womb at the Innsane
Toni (my fellow dork) at Daily Dose of Toni
Jiggety J over at Jiggety Jig
B over at The X Mom
Mrs Schmitty and all the girls over at The BlubHer Overhaul
Tena and her Punky Monkeys
And of course, my hero! Trish over at MomDot!
Ladies you rule!! Together you have turned this little hobby of mine into a hospitalizing obsession! Thank you. Thank you so much!